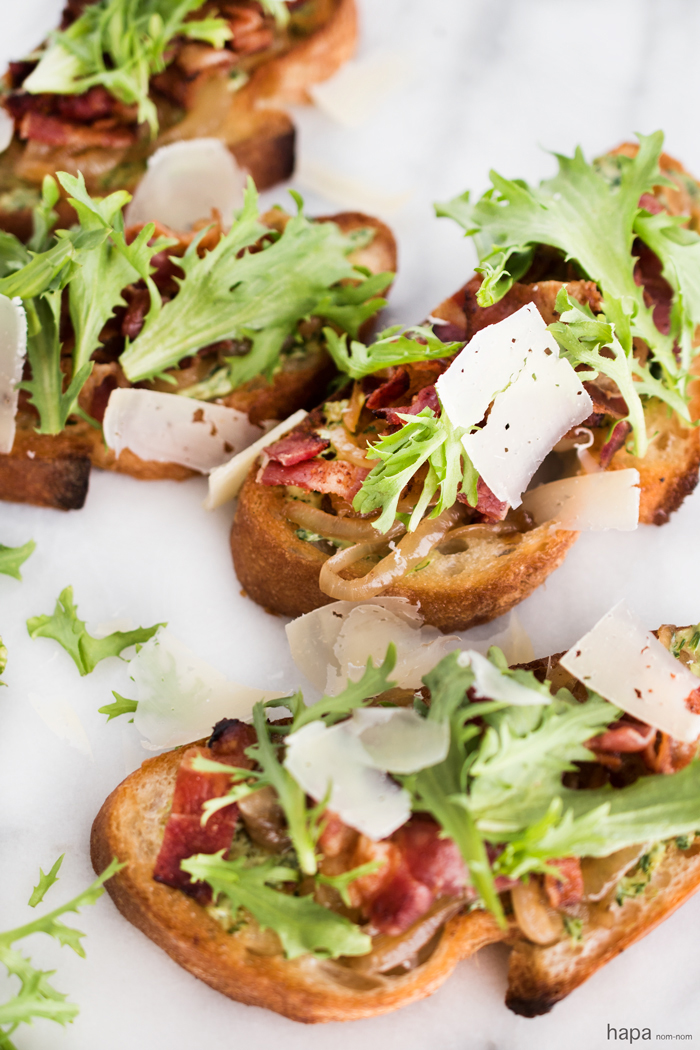 Do you ever get a craving for something completely non-specific? I know it sounds strange. Generally if you have a craving you've zeroed in on that craving like a heat-seeking missile.
I'm craving pizza.
I'm craving ice cream.
Those are specific and singular, so pretty easy to satisfy. My craving was more like, I'm craving something salty, sweet, crispy, fresh, and savory. Gee… could I be any more vague? All week I had this craving. I kept trying to satisfy it by eating numerous foods in succession – what resulted was some serious binge eating. I was eating everything in sight just trying to satisfy this one non-specific craving! Does that ever happen to you? Seriously, I think I gained 5 pound last week.
I finally started thinking smarter instead of binging harder. Instead of trying to appease the craving gods with copious offerings of food, I decided to make one dish that encompassed it all.
Rustic bread pan-toasted to a golden-brown crispiness. Topped with an herbaceous mayo, sweet caramelized onions, salty bacon, fresh frisée, and crowned with nutty parmesan. Finally! This is exactly what I needed to tame the belly beast.
So if you ever have a non-specific craving, craving everything under the sun, or just want a really awesome crostini – this is your guy.

Caramelized Onion and Bacon Crostini
Author:
Kathleen | Hapa Nom Nom
Prep time:
Cook time:
Total time:
Caramelized Onion and Bacon Crostini with Green Herb Mayo, Frisée, and Parmesan makes for an elegant appetizer that's packed with flavor.
Ingredients
Caramelized Onions:
2 tablespoons unsalted butter
2 tablespoons olive oil
3 medium yellow onions, halved and sliced ⅛-inch thick
1 tablespoon balsamic vinegar
kosher salt
freshly ground black pepper
Green Herb Mayo:
1 tablespoon capers, drained
¼ cup fresh dill, tightly packed with stems removed
¼ cup fresh parsley, packed with stems removed
2 tablespoons fresh tarragon leaves
1 cup good quality mayonnaise, preferably homemade
1 tablespoon Dijon mustard
2 garlic cloves
1 tablespoon fresh lemon juice
½ teaspoon kosher salt
freshly ground pepper to taste
Crostini:
1 pound of bacon
1 loaf rustic bread, sliced ½ inch thick
6 tablespoons unsalted butter, softened
½ cup frisée
4 ounces parmesan, shaved (you can use a vegetable peeler for this)
Instructions
To make the caramelized onions, melt 2 tablespoons of butter and olive oil in a large saute pan over medium heat. Add the onions and cook, stirring occasionally. Cook for 35 - 40 minutes until soft and caramelized. Add the balsamic vinegar and season with salt and pepper to taste. Toss and set aside.
While the onions are caramelizing, make the Green Herb Mayo. Place the ingredients for the Green Herb Mayo into the bowl of a food processor. Pulse until smooth. Cover and refrigerate until ready to use.
Add the bacon to a cold pan and heat over medium heat. Turning occasionally, cook to your desired crispiness. Once cooled, roughly chop and set aside.
Heat a large saute pan over medium-low heat. Butter each side of the bread and toast until golden-brown, about 2-3 minutes per side.
To assemble the crostini - spread the Green Herb Mayo on one side of the toast. Top with the caramelized onions, chopped bacon, frisée, and shaved parmesan. Serve and enjoy!