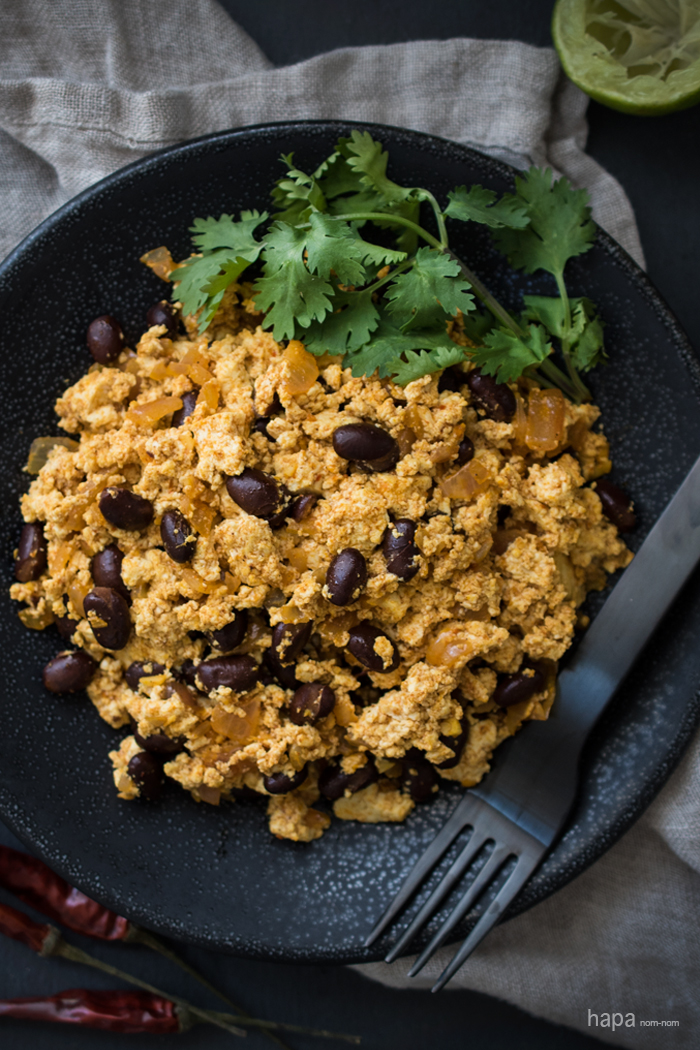 Guys! I am so excited to share this post with you! I know tofu scramble doesn't sound like anything sexy, and for some the idea of making tofu into a dish that resembles scrambled eggs may be downright off-putting. So if you're in that camp… please stay with me here! I made this on my camping trip last week, and I have made it 4 times at home since I've been back.
I've had my fair share of tofu scrambles, and they usually run the gamut between meh to pretty good. But this Spiced Tofu Scramble has got some serious legs to it!  I'm not talking it's just good for tofu… I'm talking it's straight up good. Really good!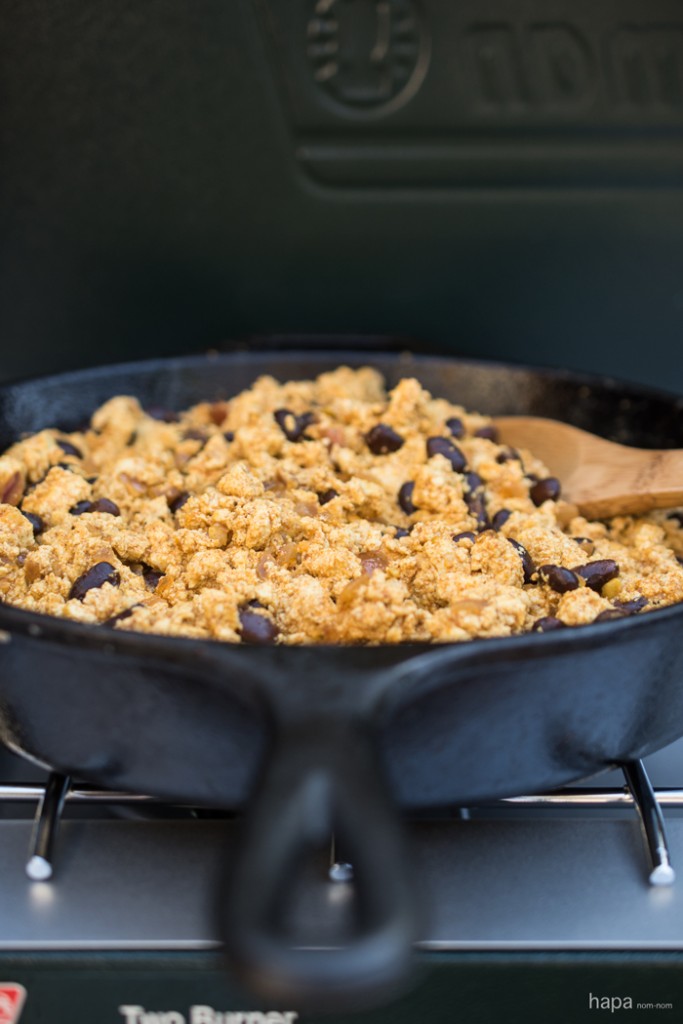 The key is the berbere. If you haven't had berbere before, please, please, make yourself a batch –  berbere makes everything better. It is the cornerstone spice blend in Ethiopian cooking and I affectionately call it 'the kitchen sink of spice mixes,' because it, well… contains just about every spice in your cupboard.  The complex spice blend gives food a rich taste, layered with flavors and it's wonderful when you're cooking with something like tofu.
I'm hesitant to call something 'the best', because who's really to say if something is truly the best – but honestly, this Spiced Tofu Scramble is the best tofu scramble I've ever had. If I find one that's better, I will happily recant my statement. But until then, I can comfortably say that this is the best tofu scramble I've ever had!

Spiced Tofu Scramble
Author:
Kathleen | Hapa Nom Nom
Prep time:
Cook time:
Total time:
This Spiced Tofu Scramble is flavored with berbere (an Ethiopian spice mix) it's tofu with some serious kick!
Ingredients
4 tablespoons extra virgin olive oil
1 medium red onion, diced
4 cloves garlic, minced
1 teaspoon fresh ginger, minced
2 tablespoons berbere
2 14 ounce blocks extra-firm tofu
1 teaspoon kosher salt
1 14 ounce can of black beans, drained and rinsed
2 tablespoons water
1 lime, juiced
2 tablespoons cilantro, chopped (optional)
hot sauce (optional)
Instructions
In a large saute pan, warm the olive oil over medium heat. Add the onion and cook until softened, about 5 minutes. Add the garlic and ginger, cook for 2 minutes. Stir in the berbere to form a paste.
Add the blocks of tofu and using a large wooden spoon (or better yet, a potato masher if you have it) break up the tofu to resemble scrambled eggs.
Sprinkle with salt, add the beans, water, and stir to combine.
Allow the mixture to simmer for 5 minutes. Turn off the heat, add the lime juice, stir once more to combine.
Plate, sprinkle with cilantro and serve with hot sauce if you like. Enjoy!
Notes
For a full list of what I made for our camping trip and a really awesome Camping Mac n' Cheese recipe, click
here
.