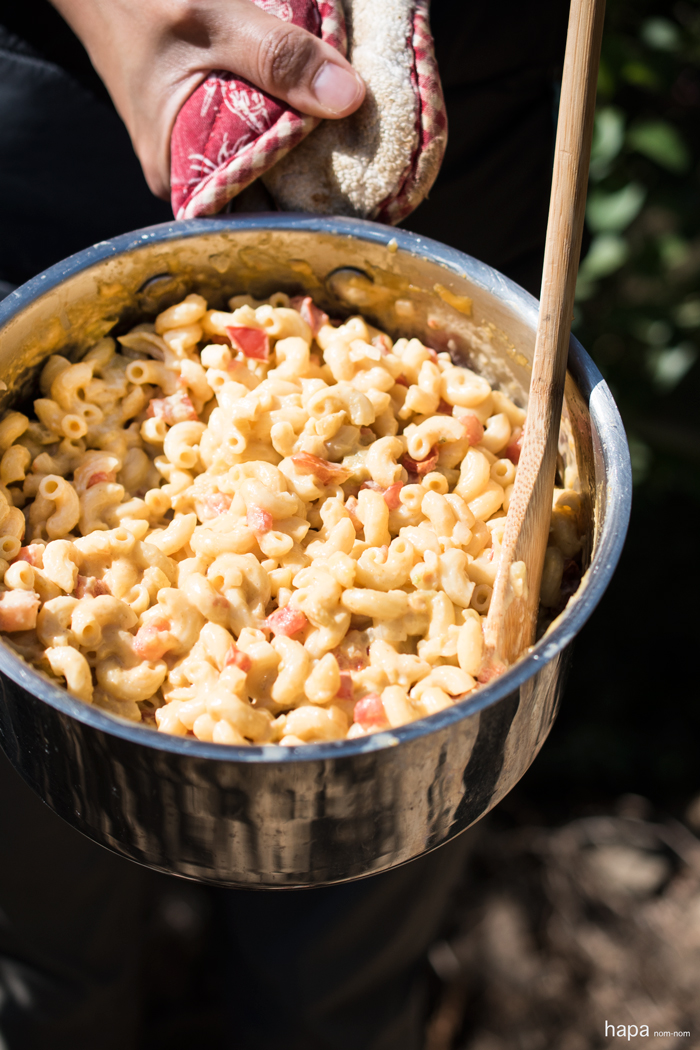 Well hello, hello! Have I got a fun post for you! We may be saying goodbye to summer, but I'm saying hello to camping season! I know everyone has their favorite time to go camping and some people even camp year-round. But my favorite time of year is fall. Of course since moving to California, I'm sure I'll be able extend that time by quite a bit. You see, living in D.C., and then a few years in Atlanta – camping in the summer meant lots of bugs, enough mosquitos to put you in the danger zone of contracting some exotic mosquito-borne illness, and what I consider even worse… nights so hot and humid you would wake up in a sleeping bag soaked through with sweat – yet you still felt the need to stay under the covers to protect you from those pesky mosquitos still flying around in your tent. Personally, I much prefer relatively bug-less and cool nights when laying my head down to sleep. Hence, my preference for fall camping.
Since moving to California, my cousin (who lives in Washington) and I have been talking about a camping trip. We finally decided to meet about halfway in Sunset Bay State Park, Oregon. I was assigned to food detail. The easy part – we were car-camping; meaning you can load up your car with all sorts of gear, coolers, and all the bottles of wine you want. Unlike the name sounds, car-camping doesn't mean that you pull up to the campsite and sleep in your car. Car-camping is simply setting up a tent and sleeping by your car.  So instead of backpacking into the wilderness with only what you can carry, you can pack as much as your car will fit. As I said, 'carrying' the food was the easy part. The challenge was… the menu had to be vegetarian-friendly. The notion seemed a bit daunting at first. But then I thought… this won't be too difficult. I've got plenty of veggie/camping-friendly recipes. Plus, it might not be such a bad thing considering our method of refrigeration would be entirely relegated to a cooler full of melting ice.
If you're going on a camping trip, I highly recommend that you write out a menu and bring it with you. This will not only help you to remember what you need to pack, but it will also help you stay focused when mealtime comes and you have hungry campers to feed. This is the menu I put together; I've included hyperlinks to a few recipes as well:
Thursday dinner:

Mac n' Cheese and Green Beans (I used a pre-packaged bag of washed and trimmed green beans and I did not 'shock' them per the instructions in the recipe)
Friday breakfast:

Hash browns (I used a bag of pre-made hash brown from the freezer aisle) and veggie sausage links

Friday lunch: Halloumi Crostini
Friday dinner: Veggie burgers (from the freezer aisle) and Spicy Ethiopian Lentils
Saturday breakfast: Ethiopian Spiced Tofu Scramble with toast
Saturday lunch: Black Bean and Corn Salad with pita chips
Saturday dinner:

Veggie Kielbasa with sautéed sliced onions and red bells peppers

Sunday breakfast:

Oatmeal (I used instant) with canned evaporated milk and berries

Snacks: Spiced Trail Mix Popcorn (HUGE hit! I made it at home and sealed it in a zip top bag), fruit, and string cheese
A few helpful tips:
Prep and portion all of your ingredients while you're at home – chop all of the veggies that you can and combine all of the spices for each meal into one bag (be sure to label each bag).
To minimize packing space and weight, I filled a travel-size bottle with olive oil for cooking. Use this method for any other cooking oils you may want to bring.
Be sure to bring a pot, pan, small knife, cutting board, large wooden spoon, pot holder, salt and pepper shaker, bottle opener, can opener, trash bag, zip-top bags, napkins, kitchen towel, sponge, cups, plates, utensils.
Extras you may want to bring: instant coffee, tea, sugar, evaporated milk, wine, and beer.
Camping Mac n' Cheese
Author:
Kathleen | Hapa Nom Nom, Adapted from my mom
Prep time:
Cook time:
Total time:
Camping Mac n' Cheese is super quick, so easy, and only uses one pot! Have an incredible dinner in the great outdoors in under 10 minutes!
Ingredients
16 ounces sharp cheddar cheese, grated
8 ounce can diced green chilies, drained
10 ounce can evaporated milk (not condensed milk)
¼ cup finely chopped yellow onion
4 teaspoons ground cumin
1 teaspoon kosher salt
1 pound elbow macaroni, cooked according to package directions (I cooked mine prior to our trip and dressed with a little olive oil to prevent sticking)
2 tomatoes, diced
½ cup tortilla chips, crushed (optional)
2 tablespoons cilantro, roughy chopped (optional)
Instructions
Heat the cheese, green chilies, evaporated milk, onion, cumin, and salt, over low heat, stirring constantly, until the cheese is melted.
Add the macaroni and stir to combine. Once the pasta is heated through, incorporate the tomatoes. Portion into bowls, sprinkle with crushed tortilla chips and cilantro, serve and enjoy!
Notes
To do while at home:
Cook the pasta and store in tupperware
Chop the onions and tomatoes and place into separate zip-tops bags
Grate the cheese, or better yet... buy it already grated
Portion out the cumin and salt and place into one bag.
* 10 minute time is based on prepping these ingredients prior to your camping trip.