Spicy Ethiopian Red Lentils , also known as Misr Wat or Mesir Wat, is the 3rd recipe in this Ethiopian food series.  I generally don't like to call something, "the best".  Because let's face it, there are a lot of really good foods out there that are amazing.  And who's really to say that one particular dish is "the best"?  But guys… seriously, these Spicy Ethiopian Red Lentils are the best lentils I've ever had!  Like ridiculously better than any other lentil dish I've tasted.  The secret is berbere – a blend of spices that form the cornerstone of many Ethiopian dishes.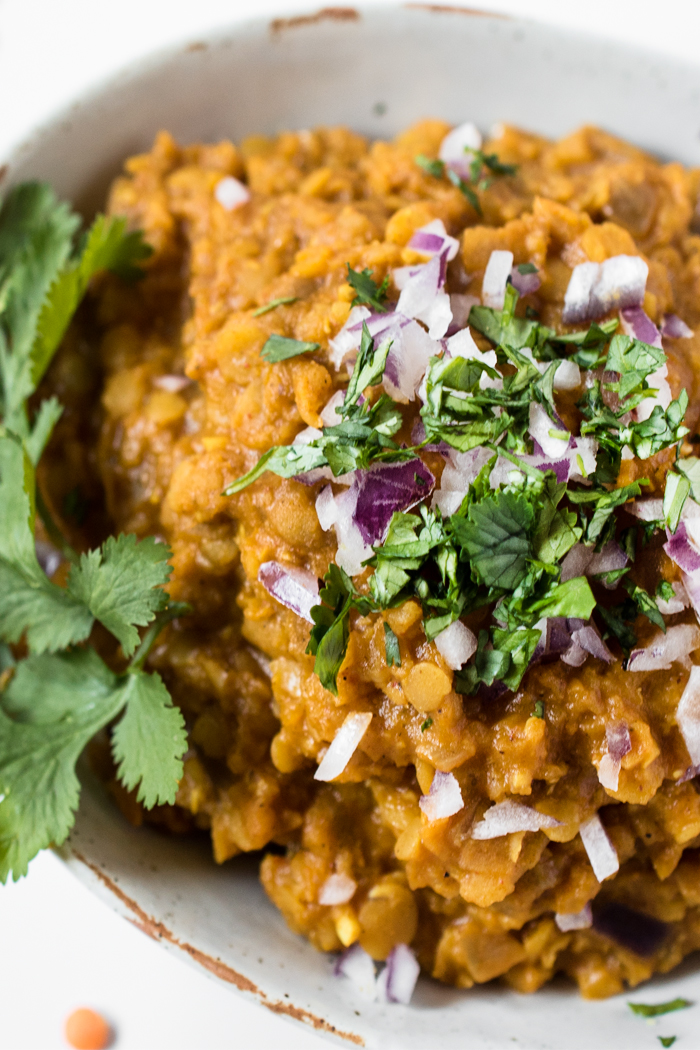 Since my husband and I moved from Washington, D.C. (a city with a vibrant Ethiopian population – the largest in the US, I've read), to Atlanta, we've been lacking in our weekly Ethiopian food night out.  Don't get me wrong, Atlanta has a truly fantastic food scene – but we are not longer within walking distance of several Ethiopian eating establishments as we once were. Our proximity, or lack thereof, motivated me to make my own.  A surprisingly easy endeavor, most dishes come together quickly and nearly all of the ingredients can be found at general grocery stores, save perhaps fenugreek – a spice with quite a unique flavor, the best way I can describe it is a subtle mixture of celery leaf and maple syrup.  A reader informed me that you can often find it at one of those health grocery stores, if you don't have an international market nearby.  Personally, I have not been able to find a decent substitute for fenugreek, so I would suggest omitting it if you can't find the spice.
A largely vegetarian cuisine, it's healthy and uses many different vegetables and legumes. What you may not expect, is that it's filling and seriously packed with a ton of flavor!  I know a dish is really good, when I constantly sneak bites in-between photographs.  Each time I'd grab a quick spoonful out of a separate bowl I prepared for myself, my eyes would roll back in complete and utter taste satisfaction.    
Lentils come in 3 major colors – green, brown, and red: Green lentils have the strongest flavor of the 3, with a slightly peppery taste.  They take the longest to cook, about 45 minutes, and hold their form better after cooking than the other two varieties – which makes them ideal for soups and stews. Brown lentils are mild and earthy in taste.  They cook up in about 30 minutes and still hold their form fairly well. Red lentils have a slightly nutty taste and only take 5 -10 minutes to cook.  They tend to break their shape fairly easily, so they're perfect for curry dishes and thickening soups. They are also ideal in Ethiopian cuisine – the softer consistency makes it easier to scoop up mouthfuls of food with injera, a spongy flatbread that is used for grasping food. If you're looking for red lentils in your grocery store, try the international aisle if you cannot find them with the other legumes.   If you still can't find them, I've used both brown and green lentils as a substitute and the taste is still great! Just be aware that you'll need to boil them longer initially.  For that, I recommend following the package directions.  
Ethiopian Red Lentils (Misr Wat)
Ingredients
1 cup red lentils, rinsed
4 tablespoons extra virgin olive oil
1 medium red onion, diced
4 cloves garlic, minced
1 teaspoon fresh ginger, grated
2 tablespoons berbere*
½ - 1 teaspoon kosher salt
2 cups water
1 lime, juiced
2 tablespoons cilantro, chopped (optional)
Instructions
Bring a pot of water to a boil. Add the lentils and cook according to the package directions, though leave them a little al dente, as they will simmer in a spiced liquid a little later in the recipe. About 5 -10 minutes, depending on the size of the lentils. Drain the lentils and set aside.
In a large saute pan, warm the olive oil over medium heat. Add the onion and cook until softened, about 5 minutes. Add the garlic and ginger, cook for 2 minutes. Stir in the berbere to form a paste.
Add the lentils, ½ teaspoon of salt, and water. Bring to a simmer for 10 - 15 minutes, until most of the water has evaporated and the mixture has thickened into a stew-like consistency. Taste and add more salt, if need. Finish with fresh lime juice.
Garnish with cilantro (if desired) and serve immediately. Enjoy!
Notes
* I love spicy food! Which is one of the reasons why I love Ethiopian food so much! If however, you prefer something a little more mild, start with 1 tablespoon of the berbere spice mix.