Give your love a piece of your heart this Valentine's Day with these Cinnamon and Sugar Heart Pretzels.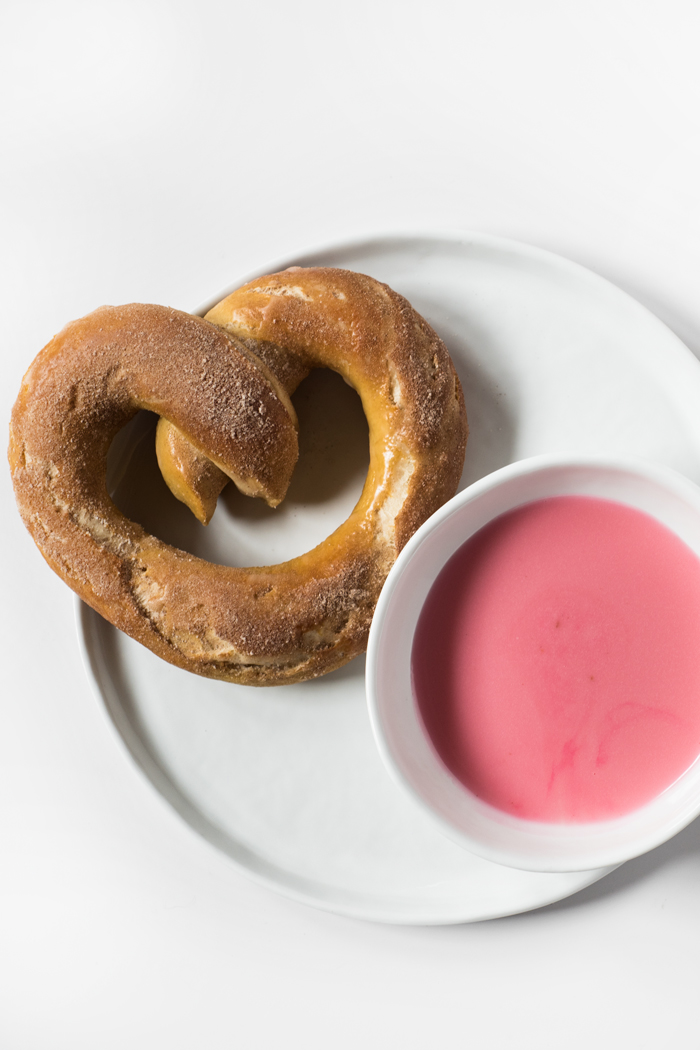 Valentine's Day is one of those unique holidays that for most, either brings out the romantic or the cynic in you – generally depending on your relationship status.  I've been on both sides of the coin… numerous times… more times than I care to think about. Dating can sometimes feel like you're participating in some twisted version of the Hunger Games.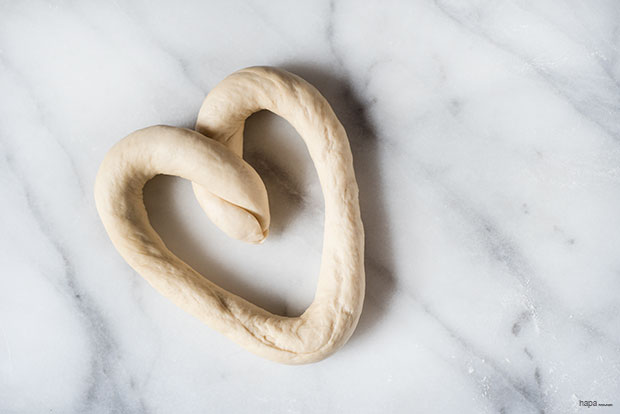 Over the years I've paid my dues in the love department, but you know what – it was all worth it.  Almost 2 years ago, I married my best friend and the love of my life.  Now don't worry, I'm not going to get all mushy on you – that's just not my style.  I may have found my love, but for me, Valentine's Day isn't all about candles, flowers, and fuzzy puppy dogs… well, maybe the puppy dogs… I'll take those any day.  For me, it's all about the food.  To be more specific, it's all about the sweets.  Full disclosure, I'm actually not a big sweets persons, I'm really more of a savory kinda gal. But these Cinnamon and Sugar Heart Pretzels have well, a soft spot in my heart.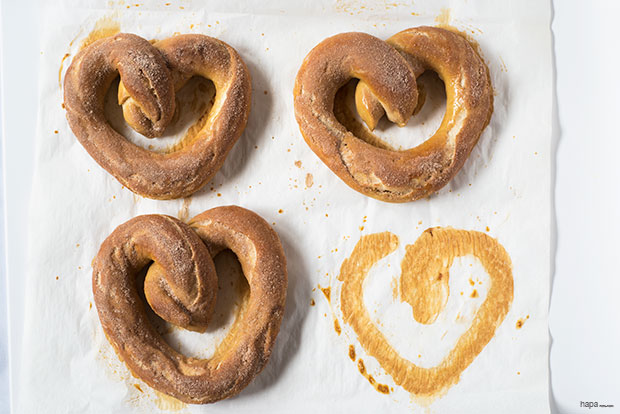 Have you ever had a Cinnamon and Sugar Pretzel?  They… are… amazing!  They're like softer and chewier cinnamon toast in the delightful shape of your choosing.  And then there's the icing – that extra bit of sweet, sticky, goodness that keeps you coming back for more. In fact, my husband is eating one as I write.  His exact words, "These things are addictive."
This Valentine's Days, give yourself and those you love, a warm and delicious Cinnamon and Sugar Pretzel Heart and have a very happy Valentine's Day.
Heart Pretzels
Author:
Kathleen | HapaNom
Recipe type:
Dessert, Snack
Prep time:
Cook time:
Total time:
Give your love a piece of your heart this Valentine's Day with these Cinnamon & Sugar Heart Shaped Pretzels.
Ingredients
1½ cup warm water, 110 -115 degrees F
2 tablespoons light brown sugar
1 package active dry yeast
2½ teaspoon kosher salt
6 tablespoons unsalted butter, melted
5 cups all-purpose flour, plus a little extra if needed
vegetable oil
⅔ cup baking soda
1 large egg yolk, beaten with 1 Tbs of water
¼ cup granulated white sugar
1 tablespoon cinnamon
Instructions
Combine the water, sugar, kosher salt, and butter in the bowl of a stand-up mixer and sprinkle the yeast on top. Let stand for 10 minutes, or until the yeast begins to foam. Add the flour, using the dough hook, mix on low speed until fully incorporated. If the dough is too wet, add one tablespoon of flour at a time.
Increase mixer speed to medium-low and knead until the dough is smooth and pulls away from the sides of the bowl, and is no longer sticky, approximately 4-5 minutes.
Transfer the dough to a large oiled bowl and cover with a moist tea towel. Let it sit in a warm place for 1 hour.
While the dough is rising, prepare the icing (recipe below), but do not add the food coloring until you're ready to serve. At this time you may also mix together the cinnamon and sugar in a small dish, set aside.
Preheat oven to 425 degrees F and line 2 baking sheets with parchment paper.
Bring a large pot of water and the baking soda to a boil.
In the meantime, punch the dough down and remove the dough from the bowl. Divide the dough into 4 equal pieces and then half each piece again, so you will have 8 pieces. With a moist tea towel, cover any dough you are not immediately working with. Taking one ball of dough from under the tea towel, roll it out into a 22-inch rope, applying even pressure with your hands. Make a U-shape and bring the end up and twist and pinch to form the top portion of the heart. Gently press the ends together and transfer the pretzel to the parchment-lined baking sheet and cover with a damp tea towel while you work on the remaining pretzels.
Place the pretzels, two at a time, into the boiling water for 30 seconds, splashing the tops with a spoon. Remove with a wide spatula or spider (they will be slick, so be careful with transferring) return to the parchment-lined baking sheet to rest - you may reshape them to some degree if needed.
Brush each pretzel with the egg wash. Place in the oven and bake for 15 – 17 minutes. Transfer to a cooling rack for at least 5 minutes. Brush the pretzels with a thin coating of the white icing (a little goes a long way) and then sprinkle generously with the cinnamon and sugar mixture.
Add a drop or two of food coloring to the icing and stir to combine. Serve with the pretzels and enjoy!
Icing
Author:
Kathleen | HapaNom
Ingredients
½ cup confectionary sugar
1 teaspoon light corn syrup
½ teaspoon vanilla extract
1 tablespoon water
food coloring, color of your choice (optional)
Instructions
Sift the confectionary sugar into a small bowl. Add the corn syrup, vanilla extract, and water. Stir until fully combined.
Add the food coloring after you have glazed the pretzels.