A full flavor experience – these Bulgogi Beef Korean Tacos with umami rich beef, spicy kimchi, cool sour cream, and smoky Sriracha, will have you craving this dish constantly!
One of the first recipes I ever posted on Hapa Nom Nom was my Bulgogi Beef Korean Tacos. It was back when I was lucky if I had 5 views to my site in a single day. And comments…. forget about it – it long before I received any of those! So I always felt like this dish kind of got buried and was never seen by anyone. That's why I've decided to use upcoming Cinco de Mayo to dust off this post, breath some new life into it with fresh photos and share it with you, my wonderful readers (which I have now). 🙂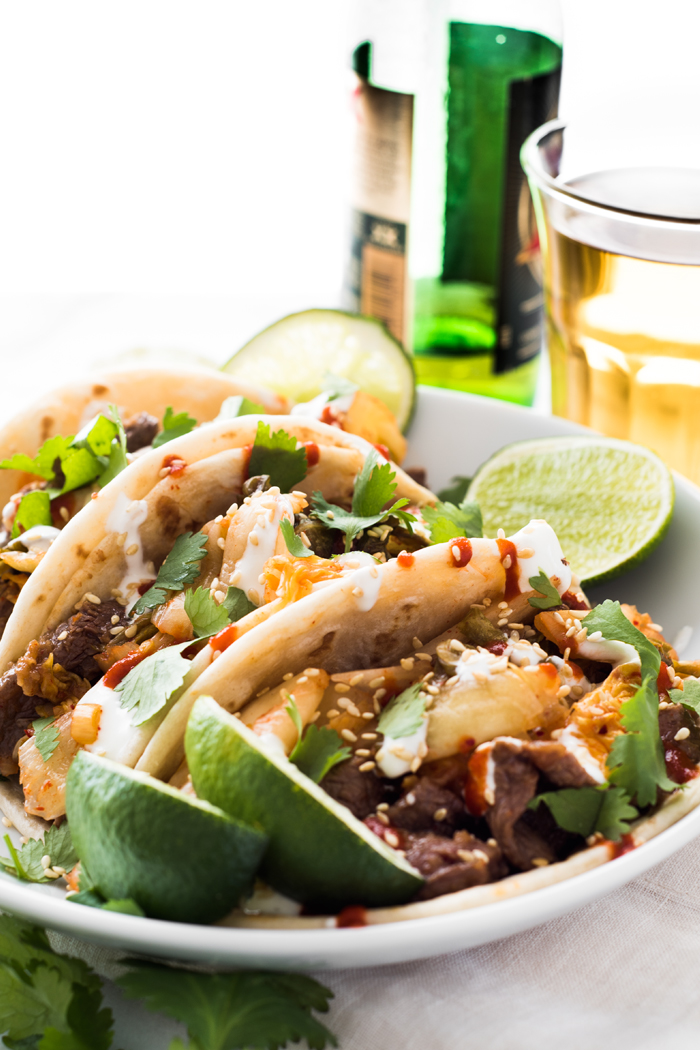 The first time I had a Korean taco, was when my husband and I lived in Washington, DC. We stopped by TaKorean – a well established food truck serving…well, Korean Tacos. I ordered the Beef Bulgogi Tacos with Kimchi and all the toppings.  With my first bite, I finally understood what all the hype was about!  It was such a full flavor experience – the beef was rich with umami, the kimchi was spicy, and the toppings rounded out the profiles. I became immediately hooked and I began craving it constantly!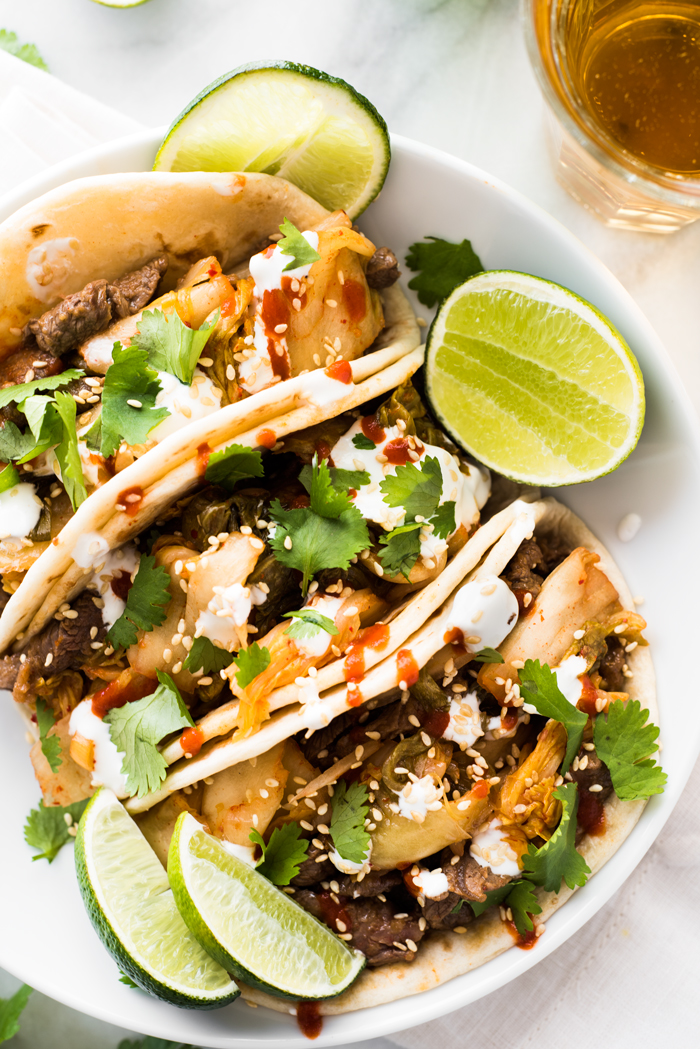 Since we've moved, I have been without my fix.  I know I could go out and find Korean tacos in the Bay Area, but I figured why not make my own…the way I remember them.  The result was like a shot to the arm, and once again all seemed right with the world.  They were delicious and just how I remembered them tasting. 
Korean Tacos
Author:
Kathleen | Hapa Nom Nom
Prep time:
Cook time:
Total time:
A full flavor experience - these Korean Tacos with umami rich beef, spicy kimchi, cool sour cream, and smoky Sriracha, will have you craving this dish constantly!
Ingredients
Quick Kimchi*
1 Napa Cabbage (heavy for its size), sliced into ¼ inch strips
water
¼ cup kosher salt
½ cup of gochugaru
1 tablespoon sugar
¼ cup fish sauce
½ bulb of garlic, minced
1 tablespoon ginger, minced
3 scallions, sliced
2 carrots, julienned
Bulgogi Beef
2 cloves garlic, grated
½ yellow onion, grated
½ pear, grated
2 tablespoons soy sauce
1 tablespoon sesame oil
1 tablespoon brown sugar
1 tablespoon gochujang
1 pound sirloin, sliced very thinly across the grain on a diagonal bias
2 tablespoons vegetable oil
Other Ingredients
24 - 6-inch corn tortillas
8 ounces sour cream
Sriracha, for drizzling
4 tablespoons toasted sesame seeds
4 tablespoons cilantro, finely chopped
2 limes
Instructions
For the Kimchi, place the sliced Napa Cabbage into a large bowl. Add enough water to cover the cabbage and add the salt, stir to combine. Let sit for 10 minutes. Combine the remaining ingredients of the Quick Kimchi in a smaller bowl to make a paste. Rinse the salted cabbage well and pat dry. Add the paste to the sliced cabbage and mix well with your hands. Store the mixture in a jar or plastic container. Press the contents down to protect the kimchi from being exposed to too much air. You may use the kimchi right away, or you can keep it at room temperature to ferment for a few of days – the flavor will intensify if allowed to ferment.
In a large bowl, combine the garlic, onion, pear, soy sauce, sesame oil, brown sugar, and gochujang. Add the meat to the the marinade and mix well, making sure that each piece is throughly coated. Cover and refrigerate for at least 1 hour and up to 8.
Warm the oil in a large skillet over medium-high heat. In a single layer, add the beef drained from the marinade (work in batches if needed). Cook for 1 minute (do not move the beef). Sprinkle with a pinch of salt, then begin to stir and toss the beef for 1-2 minutes, until just cooked. Remove from heat and set aside.
Warm the tortillas in a grill pan or other heavy-bottomed skillet. Heat the pan to medium-high heat and warm each tortilla 1 to 2 minutes per side – you want to heat the tortillas just enough to slightly char and add a bit of crispness, but not so much that when you fold it, it cracks. Wrap the tortillas in a clean tea towel to keep warm and set aside.
To each taco, add the bulgogi (excess liquid drained), kimchi, sour cream, Sriracha, toasted sesame seeds, cilantro, and a little fresh lime juice. Serve warm.
Notes
* If you'd prefer, you can buy kimchi at most Asian grocery stores or healthy food stores.

* Napa cabbage, gochugaru, and gochujang can be found at Asian markets. However, you may substitute green cabbage, red pepper flakes (use ⅛ cup), and sriracha accordingly.

* For a vegetarian option, try substituting firm tofu for the beef.

*I recommend using corn tortillas (I prefer its taste), however they tend to be more fragile than the flour version. That's why it's important to warm them before use.