I have a bit of a love/hate relationship with the hibachi Japanese steakhouse in America. I remember when I was a kid, going out to dinner at an authentic Japanese restaurant. As we walked through the large wooden doors and into the quiet dinning space, I remember turning to my parents and saying, 'why don't we go to the Japanese steakhouse'?
My dad, of Japanese decent, said something to the effect, 'because Japanese people don't eat there.'
To this day, whenever I'm walking through Japantown (any Japantown), I notice that the izakaya and ramen shops are packed with Japanese. While the hibachi steakhouse right across the street is filled with anyone but Japanese. So I guess I can understand my fathers aversion.
A few years later, the childhood lure of twirling knives and fling food was just too much to bear. So I finally convinced my parents to take my brother and I to the hibachi steakhouse down the road. But before I get to that, just a little side note… the flat-top griddle we know as a hibachi used in Japanese steakhouses across America, is actually teppanyaki. Hibachi (meaning fire bowl) is a bowl containing burning charcoal and it was originally used to heat a room in your home. They have since become the method for cooking yakitori, but the term shichirin or konro are preferred when referring to the charcoal cooking device. 
Ok now that we're all straight on what hibachi really is, let's get back to the family's first 'hibachi' steakhouse outing. Speaking from a kids perspective, I loved it! I mean come on, what kid wouldn't love spinning cutlery and catching shrimp in their mouth? I even think my dad liked it. After all, when it comes down to it, he's a steak and potatoes kinda guy so of course he's going to love a steakhouse in whatever form it comes. 
I haven't eaten at a Japanese steakhouse since I was a kid (I can't help but think of my dad's words whenever I walk by one), but I can still remember how tasty it was – hence my love/hate relationship.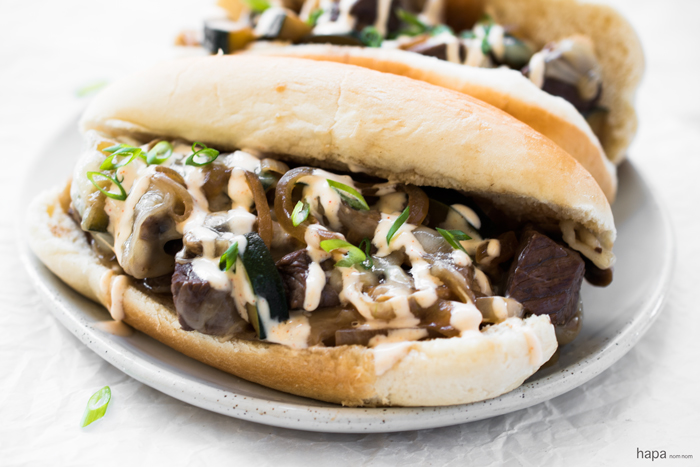 Enter this Japanese Steak Sandwich with Hibachi Steak Sauce. It's a bit of Japanese steakhouse meets a Philly cheese steak. And yes, it's as awesome as it sounds! This is like shovel into your mouth, don't care who see's you dripping steak juice all over, kind of awesome! 
The hibachi steak sauce is what is commonly known as 'yum yum sauce'. But for the life of me I couldn't bring myself to name it so. To me, yum yum sauce sounds like something you would find in an Ewok village. The best way I could convey the undeniably delicious sauce that I want to put on everything, was to name it 'hibachi steak sauce' – I figured people would know what I was getting at… even if it's not really 'hibachi' steak sauce 😉 
Japanese Steak Sandwich with Hibachi Steak Sauce
Author:
Kathleen | Hapa Nom Nom
Prep time:
Cook time:
Total time:
Ingredients
Hibachi Steak Sauce
2 cups mayonnaise
1 teaspoon ketchup
1 teaspoon garlic powder
1 teaspoon ground mustard
1 teaspoon paprika
1 tablespoon sugar
¼ teaspoon hot sauce
¼ teaspoon Kosher salt
pinch of white pepper
1 teaspoon rice vinegar
¼ cup water
Steak Sandwich
3 tablespoons unsalted butter, divided
3 tablespoons low sodium soy sauce, divided
1 medium white onion, halved and thinly sliced
2 large zucchinis, quartered lengthwise, then sliced ¼ inch thick
8 ounces white button mushrooms, thinly sliced
Kosher salt
Freshly ground black pepper
1 tablespoons vegetable oil
1 ½ pound rib eye steak, cut into cubes
6 slices provolone
4 hoagie rolls
2 scallions, thinly sliced
Instructions
Combine all of the ingredients for the hibachi steak sauce in a small bowl. Refrigerate until ready to use.
Add 2 tablespoons of butter and 2 tablespoons of soy sauce to a large skillet set over medium high heat. Once the butter has completely melted, add the onion, zucchini, mushrooms, and season with salt and pepper - cook until tender, about 5-7 minutes. Taste and add more salt and pepper, if needed. Using a slotted spoon removed the veggies and place in a bowl. Set aside.
Poor off any liquid in the pan and wipe dry. Set the pan back over medium high heat and add 1 tablespoon of vegetable oil, 1 tablespoon butter, and 1 tablespoon soy sauce to the hot pan. Once the butter has completely melted, add the steak and sprinkle with salt and pepper. Cook until browned, about 2-3 minutes, stirring occasionally.
Add the veggies back to the pan with the steak, quickly toss, and then top with cheese. Lower the heat to medium-low and cover with a lid and allow the cheese to melt, about a 1 minute.
Using a spatula, scoop up the steak and veggie mix and place inside a hoagie roll. Drizzle with the hibachi sauce, sprinkle with scallions, and sever immediately.