Hey everyone! I have a very special post to share with you today! To celebrate the upcoming Chinese New Year, I have joined 15 other amazing bloggers to throw a Chinese New Year Cookie Party!
The Chinese New Year, is China's most important and celebrated holiday. It's marked by the lunisolar Chinese calendar, so the date changes from year-to-year. This year it falls on Monday, February 8th.
Traditions may vary greatly across different parts of China, but essentially it's a time marked by auspicious customs and a time to honor ancestors. It's also a time filled with family and lots of wonderful food.
Please check out these incredible cookie creations and have a very Happy New Year!
Vermillion Roots – Vegan Cornflake Cereal Cookies
The Missing Lokness – Fried Red Bean Puffs
Daily Cooking Quest – Chinese Peanut Cookies
The Curious Nut – Chocolate Almond Cookies
What to Cook Today – Tapioca Cookies
Butter & Type – Red Bean and Strawberry Pinwheel Cookies
Wok & Skillet – Pineapple Jam Tarts
Bams Kitchen – Sesame Spiral Pie Cookies
Brunch-n-Bites – Cherry Blossom Cookies
Miss Hangrypants – Mochi Stuffed Almond Cookies
Foodie Baker – Melt-in-the-Mouth Chinese Gluten-Free Peanut Cookies 
Omnivore's Cookbook – Quinoa Sesame Brittle 
Yummy Workshop – Browned Butter Chinese Walnut Cookies
Thirsty for Tea – Macau Almond Cookies 
Created to Cook – The Ultimate Pecan Sandies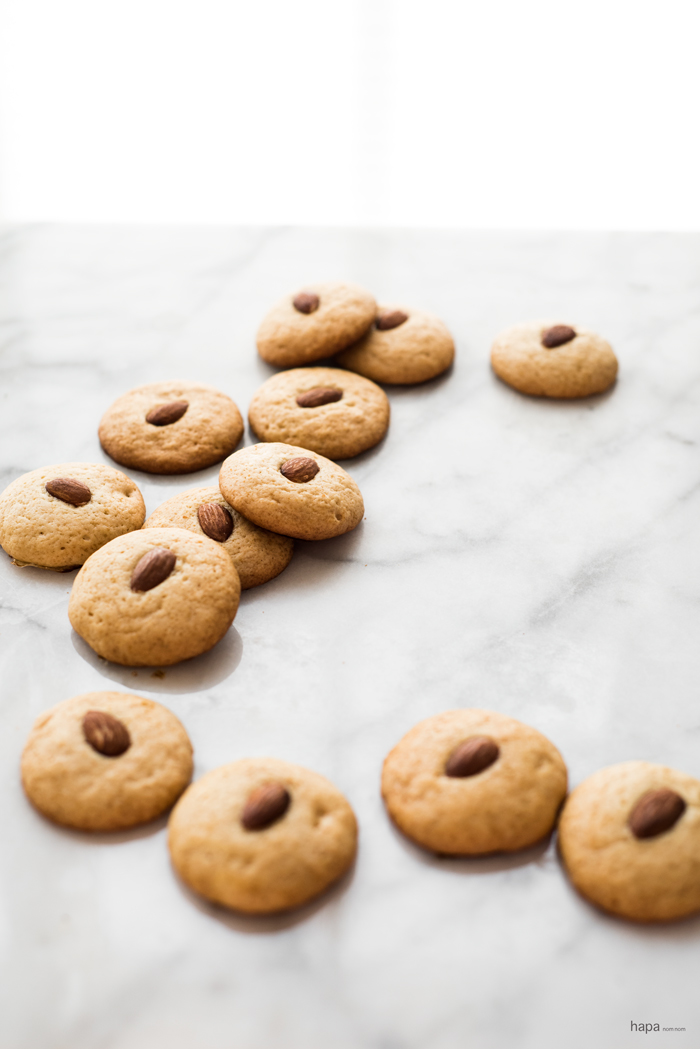 The party continues on social media! We're on Instagram, Facebook, Twitter! Just use the hashtag #ChineseNewYearCookieParty and show us your cookie creations! 
Honey Almond Cookies
Author:
Kathleen Hapa Nom Nom
Prep time:
Cook time:
Total time:
Celebrate Chinese New Year with these delicious Honey Almond Cookies! Softer and lighter than traditional ones, but every bit as delicious!
Ingredients
3½ cup all-purpose flour
½ cup sugar
½ teaspoon baking soda
½ teaspoon Kosher salt
1 cup butter, cut into pea-sized pieces
2 large eggs, beaten
½ cup honey
2 teaspoons almond extract
almonds (about 36)
1 large egg white for glazing
Instructions
Preheat the oven to 350 degrees F.
In the bowl of a standing mixer fitted with a paddle attachment (or a standard large bowl if you don't a standing mixer), combine the flour, sugar, baking soda, and salt. On low speed, gradually add the pieces of butter. Once incorporated, add the eggs, honey, and almond extract. Beat until a smooth dough forms.
Line a baking sheet with parchment paper. Roll a tablespoon of dough between the palm of your hands and place on the baking sheet, about 2 inches apart. With the palm of your hand, gently flatten the ball of dough and place a single almond on top of each cookie.
In a small bowl combine the egg white with 1 tablespoon of water. Brush the cookies with the egg wash and bake for 15 -18 minutes. Allow to cool on the baking sheet for a few minutes before transferring to a cooling rack. (Refrigerate any remaining dough in between batches).
Enjoy immediately or store in an air-tight container for several days.