The scotch egg gets a makeover! Creamy soy sauce marinated egg, wrapped in a delicious pork dumpling filling, and coated with super crispy panko, fried to golden-brown, and dipped in a curry-mayo sauce. Mind blown!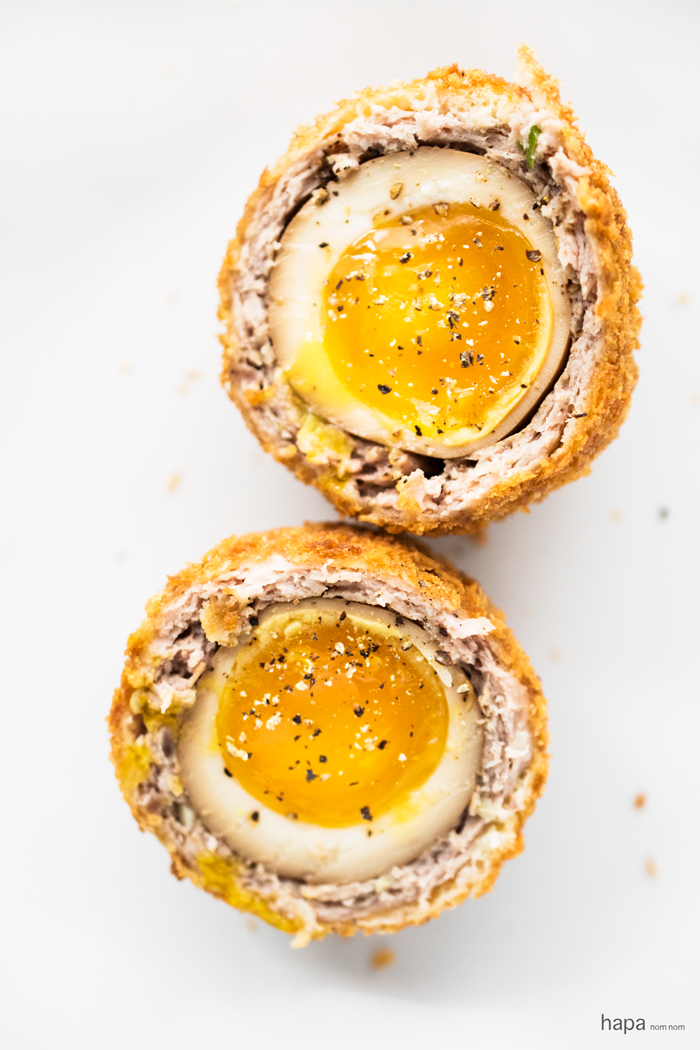 If you're unfamiliar with a scotch egg, it's a popular dish served in the United Kingdom. Traditionally it's a hard-boiled egg, wrapped in seasoned sausage, rolled in breadcrumbs, and then fried. To give it a Japanese spin, I started with a soy sauce marinated egg (shoyu egg), often a topping for ramen. I then adapted a pork dumpling filling that I like to use when I make gyoza (pan-fried Japanese dumplings). It's then rolled in panko and fried to golden-brown and crispy perfection. To top it off, it's served with a delicious curry-mayo. Is your mouth watering yet?!
If you saw my last post (Lox Summer Rolls with Avocado-Lime Dipping Sauce), you may have noticed that I posted my very first video! It was so much fun to create and it certainly helps to demonstrates techniques that my be unfamiliar – sounds perfect for a dish like this, eh? Well… I kinda did a stupid thing. Ok, it was unbelievably stupid!
I had filmed the entire process of making a Japanese Scotch Egg, from start to finish, and I accidentally deleted the file! I was removing unwanted files from my SD card before I started working on the post and instead of waiting to permanently remove the files until after I was done (because my need to keep things clean and organized board-lines on OCD) I removed the files immediately. And you guessed it, my full-length video was in there. I tried everything! Downloading recovery applications, crossing my fingers, praying to the Mac gods, but to no avail. The only video I had remaining, was a shot of me slicing the egg in half. It's still a nice little clip, but just know, I had a full video tutorial planned for you! But it's the thought that counts, right? 😉
Japanese Scotch Egg
Author:
Kathleen | Hapa Nom Nom
Creamy soy sauce marinated egg, wrapped in a delicious pork dumpling filling, and coated with super crispy panko, and dipped in a curry-mayo sauce. Mind blown!
Ingredients
Soy Sauce Eggs
3 tablespoons warm water
2 teaspoons sugar
1 tablespoon sherry vinegar
⅓ cup low sodium soy sauce
2 large eggs
Scotch Egg
¼ cup flour
1 egg, beaten
½ cup panko
½ pound ground pork
2 cloves garlic, minced
1 teaspoon freshly grated ginger
1 scallion, thinly sliced
¼ teaspoon Kosher salt
freshly ground black pepper
vegetable oil for frying
Curry-Mayo Dipping Sauce
¼ cup mayonnaise
1 teaspoon ground curry
Instructions
To make the soy sauce marinade, grab a medium bowl (actually a 2 cup measuring cup works nicely, due to its narrow base and high walls). Combine the water and sugar. Stir until the sugar dissolves and then add the sherry vinegar and soy sauce. Set aside.
Prepare a bowl full of ice water and bring a large saucepan filled halfway with water to a boil. Gently lower the eggs into the boiling water one at a time, using a spoon. Cook for exactly 6 minutes and 50 seconds. Remove the eggs as soon as they are done and transfer them to the ice water. Once cool, gently peel the eggs (the yolks will be soft, so the eggs will be a bit delicate). Transfer the eggs to the soy sauce mixture and marinate in the fridge for 2 to 6 hours. Make sure they are completely submerged, use a small plate placed on top, if needed.
When you're ready to make the Japanese scotch eggs, prepare your breading station. Place the flour, egg, and panko in 3 seperate bowls.
In a medium bowl, combine the pork, garlic, ginger, scallion, salt, and a few cracks of pepper. Divide the pork mixture in half. Working with one piece at a time, roll the mixture between your hands to form a ball and then flatten with the palm of your hand - large enough to wrap around an egg. Place a soy sauce marinated egg in the center and wrap the pork around the egg, sealing to completely close and pinch off any excess pork. Repeat with the remaining soy sauce egg.
Working with one wrapped egg at a time, gently roll it in the flour, shaking off the excess. Then coat in the beaten egg and roll in the panko to completely coat.
Heat a large, heavy-bottomed pot over medium-high heat. Pour in 2-inches of oil and heat to 375 degrees F. Carefully add the panko crusted eggs to the hot oil. The heat will drop when you add the eggs, but that's ok! You actually want to cook them at 350 degrees F (make sure you maintain this temp throughout the cooking process). Cook, turning occasionally for 5-6 minutes, or until golden-brown. Using a slotted spoon, remove the eggs and allow to drain on a paper towels.
In a small bowl, combine the mayo and curry powder.
Serve the Japanese Scotch Eggs and with the curry-mayo immediately. Enjoy!
Notes
* You can make the soy sauce eggs ahead of time. They will keep for a month, refrigerated, in a tightly sealed container.
* Keep the soy sauce mixture if you'd like to marinate more eggs.
* Soy Sauce Egg adapted from
Food52 (Momofuku's Soy Sauce Eggs)