I think kung pao chicken, in all its variations is fantastic. Whether I've searched high-and-low for the most authentic Sichuan restaurants in Chinatown or just passing through the abominable neon-lit food court at the mall – it's all great!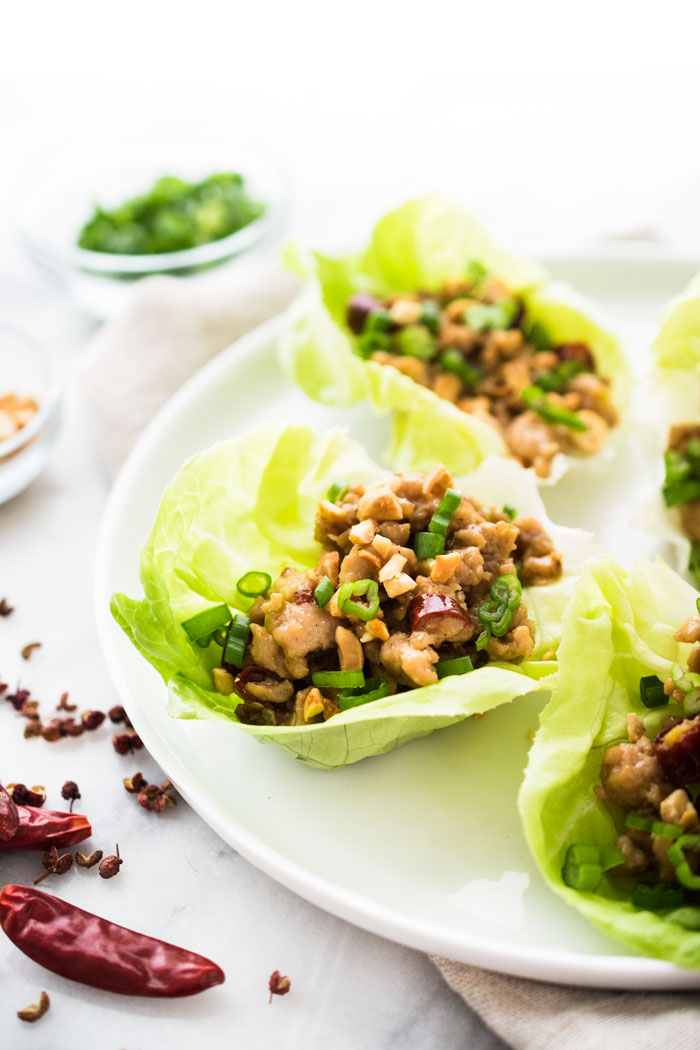 Kung pao chicken has certainly seen many incarnations. This particular version was born out my husbands request to make my Chicken Lettuce Wraps, a dish I used to make all the time when we first started dating. It's true, despite loving those little bundles, I hadn't made them in quite some time. Except this time I wanted to spice things up… so to speak. Kung Pao Chicken Lettuce Wraps almost immediately came to mind. Plus, the crispy lettuce adds such a nice fresh element to the dish.  
One of the most notable ingredients in kung pao chicken, are the Sichuan peppercorns. A bit of a misnomer, Sichuan peppercorns are not peppercorns at all. In fact, they are the husk of a dried berry from a small citrus tree called a prickly ash. And… while Sichuan peppercorns are often thought to contribute that iconic heat associated with Sichuan cuisine, they actually contribute very little on that spectrum.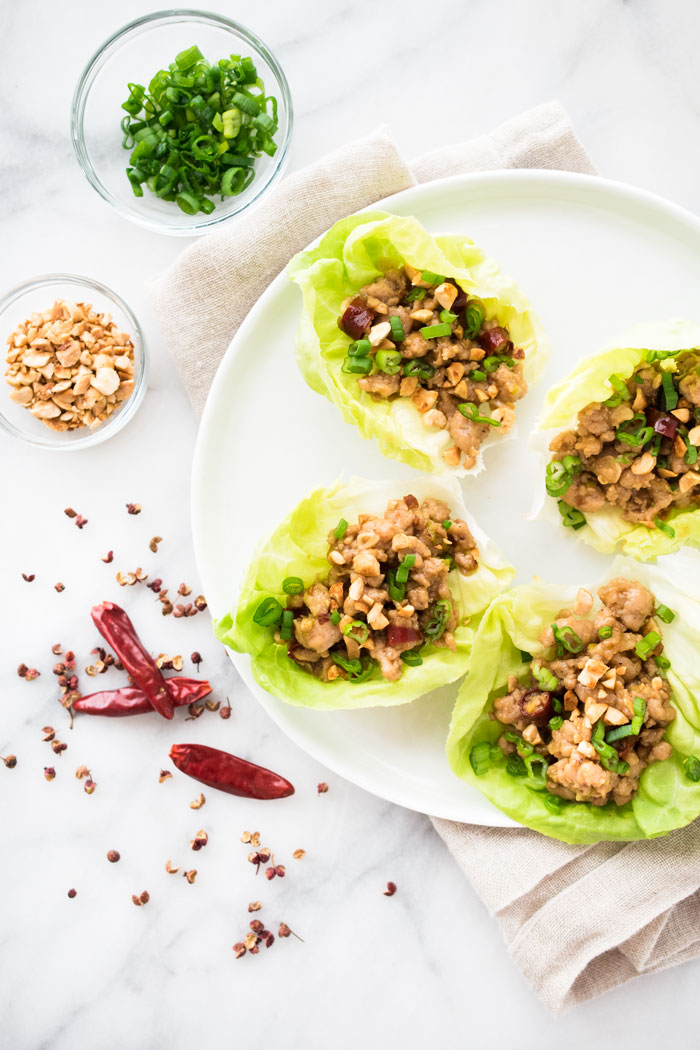 So if Sichuan peppercorns aren't peppercorns and really don't bring a lot of heat, then what do they bring to the table? They numb, they tingle, they're even said to 'vibrate' or 'buzz' in your mouth, like a carbonated drink. The best way I can describe it (and stay with me here, I know this is going to sound a little strange) – you know how your foot feels when it falls asleep (before that painful moment when it starts to wake-up)? Well… that's kind of what your mouth feels like. Numb, a little tingly, and not quite sure if the sensation you're feeling is hot or cold. Though not to worry, it's not like the numbing you would receive at the dentist. As amusing as that might be, you're not going to be slurring your words and drooling all over yourself 😛
It may sound a little bizarre, but when used in the right proportions, it's actually a very pleasant experience. It's even said that the numbing qualities of the peppercorns allow the diner to enjoy the more subtle flavors of the chili peppers. In fact, Sichuan peppercorns enhance the salty, sweet, sour, and smoky symphony of flavors going on in this dish. So go on… grab some Sichuan peppercorns. You're mouth will literally buzz with delight!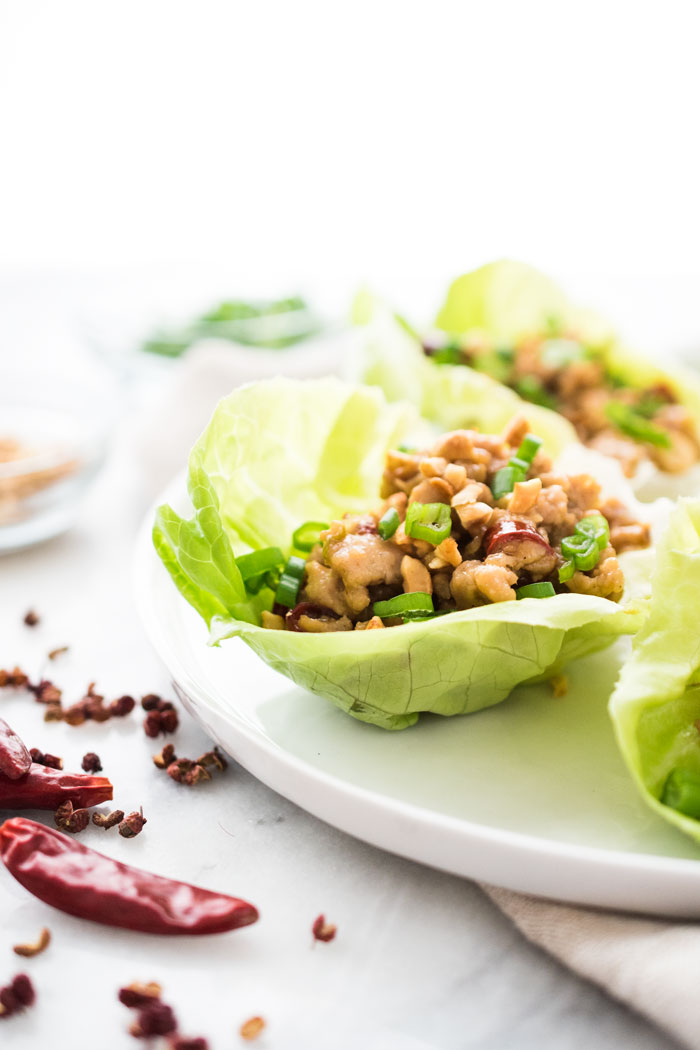 Kung Pao Lettuce Wraps
Author:
Kathleen | Hapa Nom Nom
Recipe type:
Appetizer/Entrée
Your mouth will tingle with delight when you bite into one of these Kung Pao Chicken Lettuce Wraps!
Ingredients
Marinade
1 pound ground chicken
1 tablespoon dry sherry
2 teaspoons cornstarch
1 teaspoon Kosher salt
Stir-Fry Sauce
2 tablespoons soy sauce
2 teaspoons oyster sauce
1 tablespoon rice vinegar
1 tablespoon dark brown sugar
3 tablespoons water
2 teaspoons cornstarch
Other Ingredients
¼ raw peanuts, roughly chopped
4 tablespoons vegetable oil, divided
1 - 2 teaspoons Sichuan peppercorns*
2 - 10 dried red chilies, roughly chopped*
4 scallions, white parts thinly sliced. Then thinly slice the green parts of two of the 4 scallions.
6 garlic cloves, minced
1 inch ginger, grated
1 head of Bibb lettuce, leaves gently pulled apart and washed
Instructions
In a mixing bowl, combine the ground chicken, dry sherry, cornstarch, and salt. Mix well and allow to sit for 10 minutes.
In the meantime, add the chopped peanuts to a skillet over medium heat. Toast until lightly browned (this will only take a few minutes, so don't walk away).
Then combine all of the ingredients for the stir-fry sauce and set aside.
In a wok or large skillet, heat 1 tablespoon of oil over medium-high heat. Add the marinated ground chicken and sauté for about 3 - 4 minutes. (You're really just searing the outside, not cooking all the way through at this point - so it's ok if it's a little pink for now). Then transfer the chicken, and any brown bits from the pan to a bowl and set aside.
Reheat the pan over medium heat and add 3 tablespoon of oil. Add the peppercorns and once they start to sizzle, cook for 2 minutes longer, until fragrant. Remove the peppercorns with a slotted spoon and discard.
Turn the heat down to low and add the chili peppers to the Sichuan peppercorn infused oil. Cook until they darken, less than 1 minute. Add the scallions, garlic, and ginger and sauté until fragrant, about 1-2 minutes.
Add the chicken and turn up the heat to high. Give a stir of the stir-fry sauce (incase the cornstarch has settled) and add that to the pan as well. Stir-fry for several minutes, until the chicken is cooked through and the sauce has thickened.
Spoon the Kung Pao chicken into the lettuce cups and garnish with the toasted peanuts and sliced scallions. Serve and enjoy!
Notes
* Use 1 teaspoon of Sichuan peppercorns for a very mild numbing sensation. Use 2 teaspoons for a little extra oomph. Unfortunately there's no really good substitute for Sichuan peppercorns, so just omit them if you can't find them and/or don't want to order them online, I recommend
Penzeys
.
* Dried red chili peppers are generally sold as 'dried red chili peppers' and not specifically labeled. Depending on the type of chili you buy and its age, the heat can vary greatly. To gage it's level, you'll want to smell the chilies when you open the bag. If it's pungent and tickles your nose, they're probably pretty hot. If you don't get much fragrance off of them, they're probably more on the mild side. If I've learned anything from cooking with chilies, it's that someone's idea of what is hot, covers the spectrum. So use the amount of chili peppers that best fits your comfort level.
* Another note about the dried chilies - when cut into small pieces, I enjoy the extra bit of heat of biting into them. If you want the flavor but not the additional heat, then slice the chilies lengthwise (so they're in larger pieces), remove the seeds and cook as directed. When done cooking, simply remove them and serve.
* Serves 2 as an entrée and 4 as an appetizer.
href="https://hapanom.com/wp-content/uploads/2016/03/Kung-Pao-Chicken-Lettuce-Wraps-Pin.jpg" rel="attachment wp-att-9152″>