Have you tried sour cream ice cream? If you have, then you already understand its incredibly rich and wonderfully tangy-creamy goodness. If you haven't…. then put it at the top of your to-do list of things to try! I'd suggest running out to the nearest grocery store and picking up a carton, but sadly I have never seen it on the shelves. I'm sorry my friends, if you want to try sour cream ice cream your best chances of finding it are at a fancy-schmancy restaurant. Or… you could just make your own, and quite simply I might add!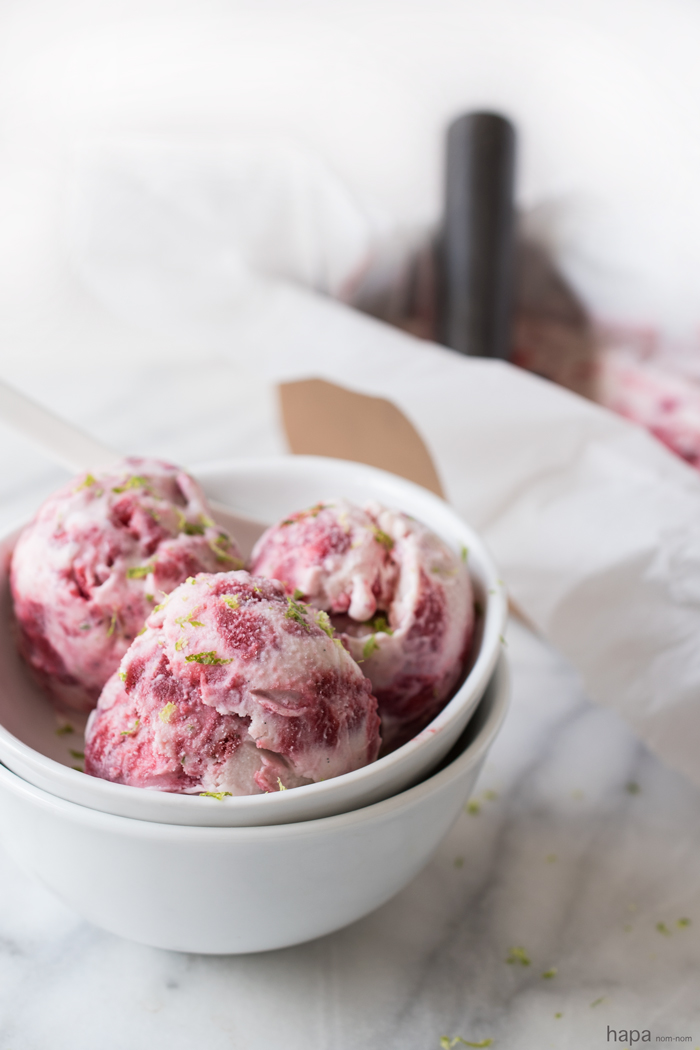 Mandy from Lady and Pups in all of her never-ending creativity and ingenuity, created an incredible Self-Made Sour Cream Gelato and it's one of my favorite easy-prep desserts. You whisk, you freeze, that's it!
Do you ever have a waterfall of ideas? You start with one idea and then it just cascades from one thought to another? The other day I was making my Strawberry French Toast, which calls for a dollop of sour cream on top – sweet, rich, and tangy, it makes a wonderful combination. Then I thought about combining the strawberry with sour cream ice cream. And then finally, I remembered a conversation that I had with my mother recently where she mentioned shopping at a culinary store and was given a sample of vanilla ice cream from a ice cream maker they were featuring. It was paired with strawberries and lime zest, and she said it was absolutely delicious!
And so that's how No-Churn Strawberry and Lime Sour Cream Ice Cream came to be.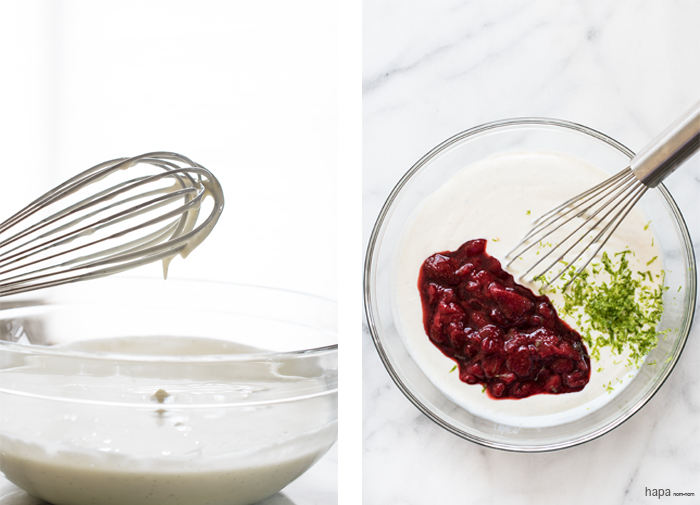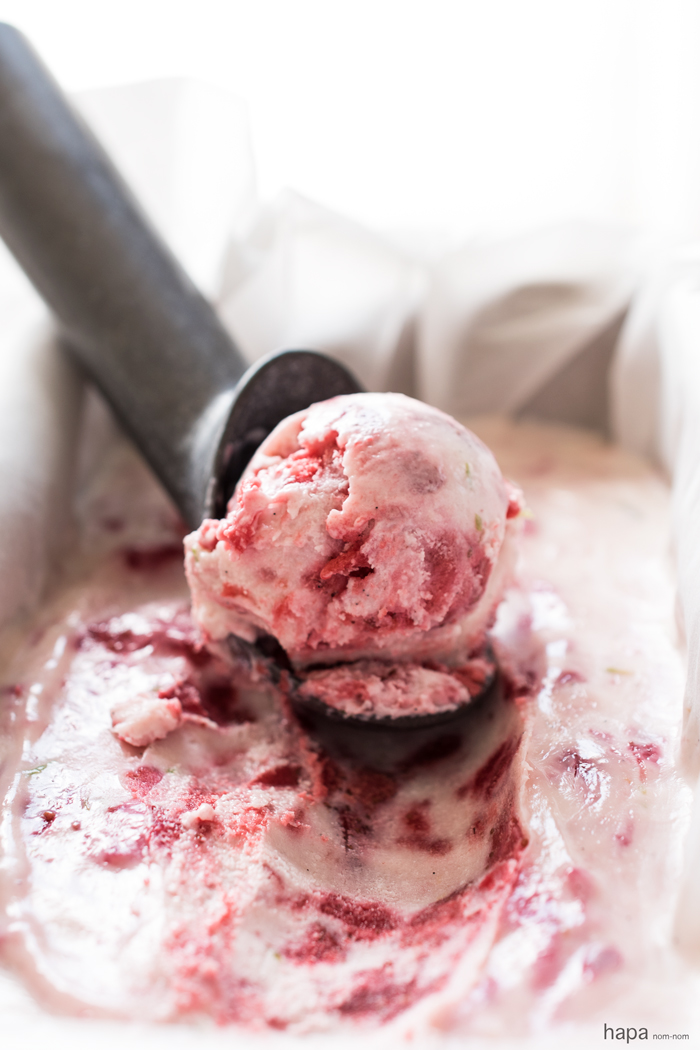 No-Churn Strawberry and Lime Sour Cream Ice Cream
Author:
Kathleen | HapaNomNom
Prep time:
Cook time:
Total time:
A fabulous combination of flavors, this No-Churn Strawberry and Lime Sour Cream Ice Cream is super easy to prepare. NO expensive, counter --cluttering piece of equipment needed.
Ingredients
Strawberry Sauce
1 pound of strawberries, hulled and quartered
¼ cup sugar
¼ cup water
2 tablespoons fresh lemon juice
Sour Cream Ice Cream
1½ cup sour cream
1 cup sweetened condensed milk
1 vanilla bean, split and scraped
Additional Ingredients
zest of one lime, plus extra for garnish
Instructions
In a medium sauce pan, add all of the ingredients for the Strawberry Sauce. Allow to gently simmer for 30-40 minutes, or until thick. Remove from heat and transfer to a bowl. Cover, refrigerate and allow to completely cool .
To make the Sour Cream Ice Cream, whisk the sour cream, sweetened condensed milk, and seeds from the vanilla bean together until smooth and creamy. Make sure there are no lumps.
Add the cooled strawberry sauce to the sour cream mixture (if you want a more uniform color ice cream and smoother texture - purée the strawberry sauce before adding it to the sour cream ice cream base). Add the zest from one lime and stir to combine. Pour the mixture into a container and freeze for 6 hours to overnight.
Take out the ice cream about 5 minutes before serving to allow it to soften slightly. Scoop into bowls and garnish with extra lime zest if desired. Enjoy!