When it comes to the Super Bowl, my proving ground is not on the field, it's on the beer-stained buffet table in the back. You want ribs, I got ribs. You need wings, I got wings. Craving some chili, I got you covered. Looking for a cheesy sandwich roll? Well look no further. I have a Cuban Sandwich Roll Up, just for you!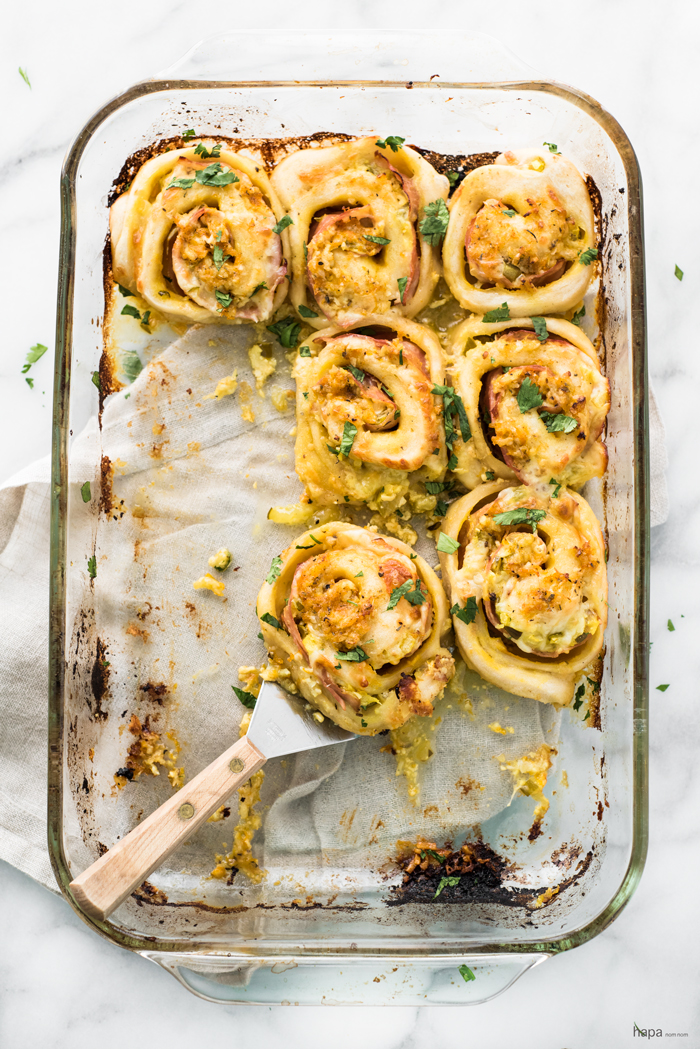 Generally speaking, I eat fairly well. I don't count calories but I do like to use fresh, seasonal ingredients, and I avoid things that are overly processed. I like a balance – I eat mostly healthy, sprinkled with a few indulgent items here and there. However, when it comes to the Super Bowl I kiiiinda go in the opposite direction. Let me explain. Football games are about having fun and cutting loose, and for me, that means on the plate too! When I've seen a live game or have gone to a tailgate in the parking lot, I want beer, nachos, and hotdogs (you've probably seen me – I'm that girl with the giant mustard stain on her shirt that's standing in the beer line for the 5th time… and the game hasn't even started yet). The fact is, I don't think I could eat healthy even if I wanted to. The whole scene (even if you've only witnessed it once) becomes a permanent image in your head… a cultural idea. So when I think of a Super Bowl party, I'm having a no-holds-barred party on my plate!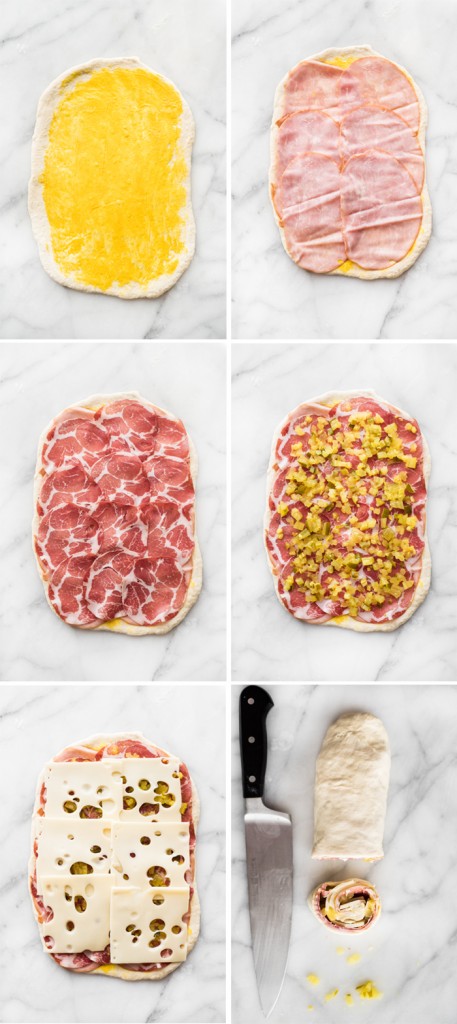 This little indulgence is a take on a deli-style Cuban sandwich and drizzled with a mojo sauce (a mixture of lots of garlic, olive oil, and citrus). I visited the deli counter at the grocery store and asked for honey ham to add a bit of sweetness and hot capicola for some spice. When it's all rolled up and baked, all of those flavors render, creating some pretty incredible aromas coming from your kitchen! If you like the smell of roasted garlic, you and your guests are in for a real treat!
So grab yourself a beer, a plate full of goodies, and don't forget the Cuban Sandwich Roll Up. Happy game day!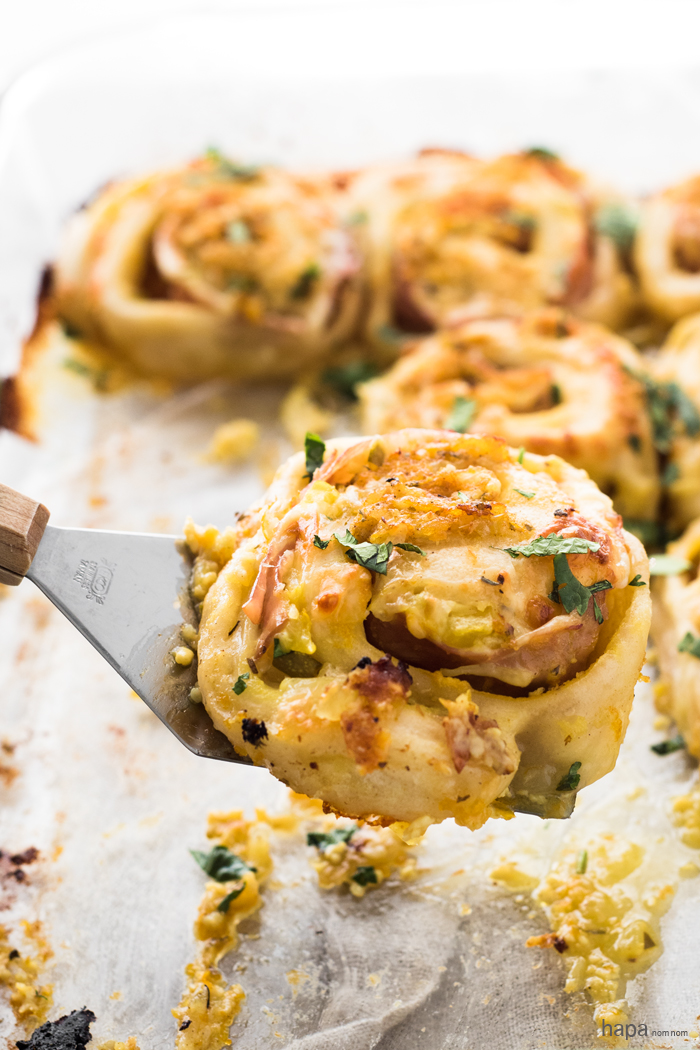 Cuban Sandwich Roll Up
Author:
Kathleen | Hapa Nom Nom
Prep time:
Cook time:
Total time:
Ingredients
Mojo Sauce
2 tablespoons extra virgin olive oil
1 lime juiced, about 2 tablespoons
1 orange, zested and juiced
6 garlic cloves, minced
¼ teaspoon dried oregano
½ teaspoon ground cumin
¾ teaspoon Kosher salt
pinch of freshly ground black pepper
Cuban Sandwich Roll Up
1 pound pizza dough
¼ cup yellow mustard
12 slices deli honey ham, thinly sliced
4 ounces hot capicola, thinly sliced
1 cup dill pickle planks, diced
12 slices Swiss cheese, thinly sliced
2 tablespoon fresh cilantro, roughly chopped
Instructions
In a small bowl, combine all of the ingredients for the mojo sauce. Brush some of the mojo sauce on the bottom and sides of a 9x13 inch baking dish and set aside.
Preheat the oven to 425 degrees F.
Roll out the dough on a floured surface to approximately 13x18 inches. With the longest side of the dough closest to you, start layering the ingredients. (For easier rolling, you can slice the dough in half, vertically, so you roll 2 smaller rolls instead of 1 large one). Start by evenly spreading the mustard over the dough, then layer on the ham, capicola, dill pickles, and top with cheese.
Rolling from the longest side, closest to you, begin rolling up, ending with the seam-side down (try to roll it as tightly as possible). Using the weight of your knife and a gentle sawing motion, slice the roll into approximately 1-inch thick pieces. Transfer the rolls to the baking dish and then evenly pour the remaining mojo sauce over the top of each roll.
Bake for 25-30 minutes, until the tops are golden-brown. Remove from the oven, garnish with cilantro, serve, and enjoy!
Notes
The roll can be made the night before. Simply wrap well in plastic warp and refrigerate. Approximately 30 minutes before serving, unwrap the roll, slice, drizzle with mojo sauce, bake, serve, and enjoy!